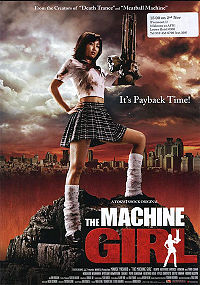 The film starts with Ami Hyūga killing a group of bullies who were picking on a guy. After she eliminates the bullies, she tells him the story of her life before she became what she is. She was just an average high school girl, trying to lead a normal life. Her world came crashing down when her brother and his friend are killed by the members of the yakuza and their young leader. As Ami tracks down the ringleader, she is surprised to discover the bullies' association with a sinister ninja yakuza family. When she goes after her revenge, she soon finds herself in over her head and minus her left arm. Barely surviving, Ami escapes and seeks out shelter from two kindly garage mechanics, the parents of her brother's friend. They take pity on her, fitting her with a high-powered machine gun where her arm used to be. She then teams up with the chainsaw-wielding mother of her brother's slain friend and together they unleash an unholy, non-stop kill fest against the killer of their loved ones.
Eventually, they reach the place where the yakuza are hiding. As the fight continues, the chainsaw-wielding mother of her brother's slain friend loses her right foot then eventually dies. Ami loses her machine gun when she fights with the father of the young yakuza leader. She gets the chainsaw of the mother who died earlier. The young yakuza leader cowardly uses some students as hostage and also as shield against Ami. Ami Hyūga is ready to kill the young leader, but his mother is there. She fights with the mother of her brother's killer. As the fight progresses she loses her chainsaw. The mother of the young yakuza leader reveals that she is wearing a drill bra, and presses herself against Ami's breasts, drilling into them. Ami is then thrown to the ground, and the mother attempts to drill the face of Ami. Ami notices that one of the students that is held hostage urinate, seizes a chance and throws the mother onto the urine. The mother is electrocuted. The young leader comes to his mother and Ami uses the chainsaw on them. Ami sets the hostages free. Outside, Ami tries to kill herself but is stopped when someone arrives. The person who arrives is not seen, because the movie ends.



Posts

: 280


Join date

: 2008-12-01


Age

: 23


Location

: Morrisville, NC



HAHAHAHAHA MAN . . . I saw part of that . . . pretty weird -_-"



Posts

: 160


Join date

: 2008-12-02



Why did she KILL bullies at the beginning, bullying does not warrant a death sentence.
Admin




Posts

: 169


Join date

: 2008-12-01


Age

: 29


Location

: Raleigh



I think it's because i think her brother was bullied & killed & she doesn't want that to happen to that guy so she killed them i watched it one time & my sister told me to cut it off because it was extremely Bloody : [ But it was an intersting film!



Posts

: 280


Join date

: 2008-12-01


Age

: 23


Location

: Morrisville, NC




---
Permissions in this forum:
You
cannot
reply to topics in this forum